Sustaining A Business—How To Stick With It with Cyndi Prince, LooHoo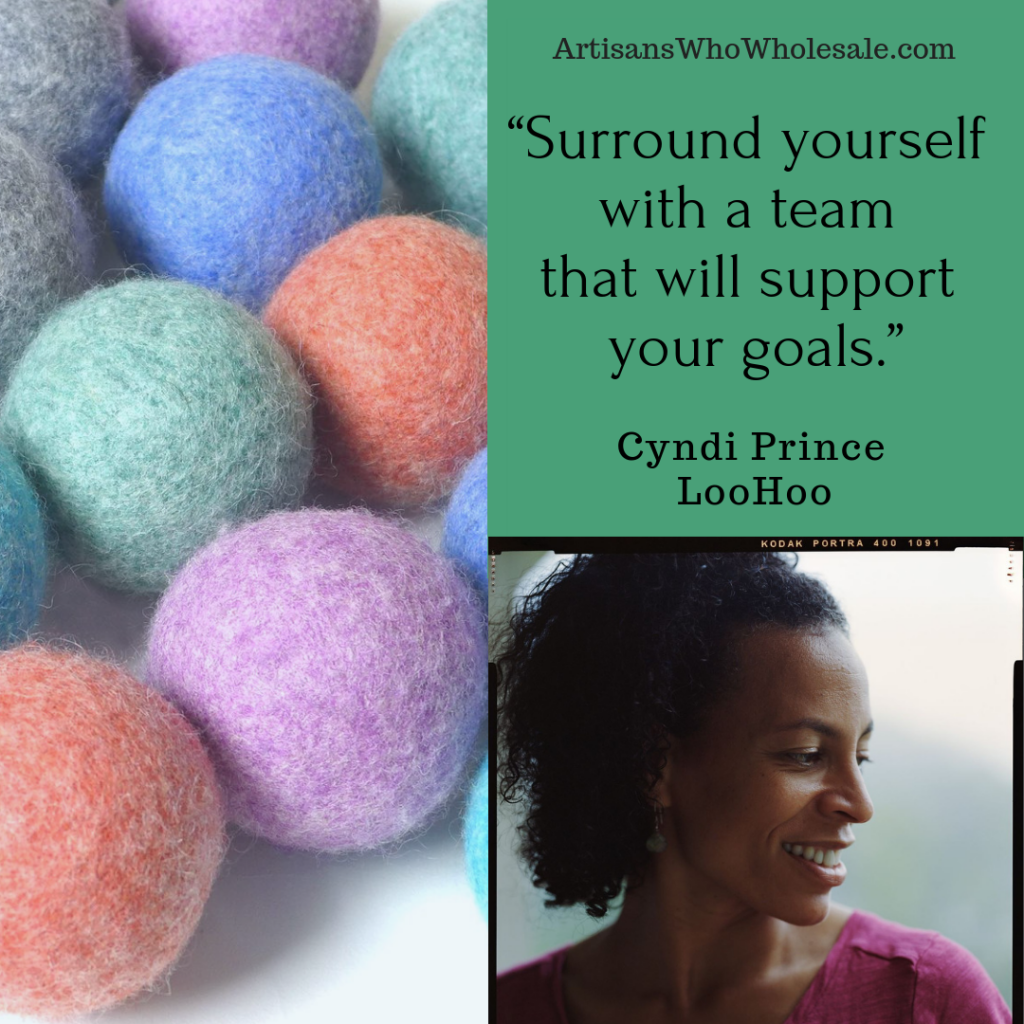 Episode 10
'Will this sink my business?' Almost every business owner has had that disaster moment. Cyndi Prince had hers early on in her business. Listen in on how she got through a packaging disaster to grow a business that is sustainable in more ways than one. With a background in science and art, she's navigated both the practical and creative needs of her business. In this episode, she'll share her story and seasoned advice for entrepreneurs and artisans at any stage!
A little about Cyndi
Cyndi Prince is the founder of LooHoo, LLC, a Maine-based company that makes and sells LooHoo Wool Dryer Balls, a reusable, energy-saving alternative to dryer sheets for those that are concerned with protecting their family's health and the environment. Cyndi began her entrepreneur journey by completing business development courses including New Ventures through Women, Work & Community.
She has been a recipient for a MTI Seed Grant Award, the Eileen Fisher Grant, a SPANX by Sara Blakely "Leg Up" Promotion winner and featured entrepreneur and was selected as the SBA 2014 Home-Based Business Award for Maine and New England. She resided in Camden, Maine with her husband Scott and their son Graham.
To learn more about Cyndi and her company, you can visit www.loo-hoo.com or email Cyndi at cyndi@loo-hoo.com.
Tips
You can't do it alone—you need the support of other people. Not just people you pay, but those that can cheer you on.
For acquiring new buyers, look at other businesses that have a non-competing product and ask for introductions or connections. Or pair together to do joint cross-promoting giveaways on social media.
Ask for help and be open to receiving that help
Have something else to go to—something different—that allows you to come back to your business fully recharged
Recommended Resources
Book: Finish: Give Yourself the Gift of Done
Healthy Habit: Regular exercise, eating healthy, getting good sleep. It's the simple things, but important!
Quotable
"You need to surround yourself with amazing people and be able to let that evolve."
"Stick with it—it will continue to get better and you'll figure out those hurdles and they won't be so difficult."
"If you're in it for the long haul, it so worth it. It's a tough journey and challenging, but so rewarding."