Burning it up with Denise O'Reilly, The Burnt Shop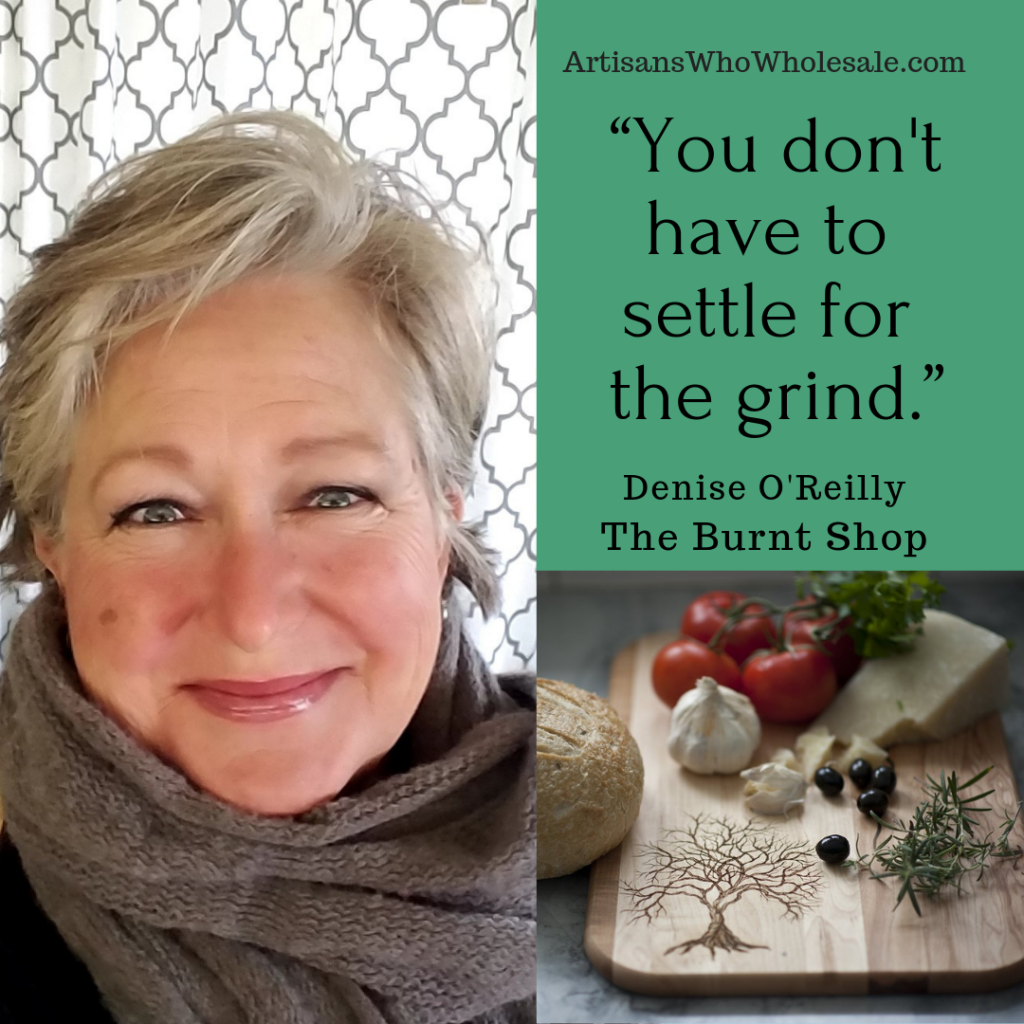 Denise O'Reilly likes to burn things. And they're beautiful.
Episode 017 
As the owner of The Burnt Shop, Denise has been gone from making holiday gifts for friends to quitting her leader role at Whole Foods. How did she go from presents to profit? How does she create new products? With a lot of hard work and smart growth along the way. Learn how she's heating up her wholesale business in this episode.
A little about Denise
Denise O'Reilly, owner artist at The Burnt Shop, moved her home and business to Maine in 2018 from Glastonbury, Connecticut. She launched her line of botanically inspired kitchen and barware 4 years ago by selling at farmers markets and art shows. She transforms her pen and ink drawings into etched and woodburned pieces out of her home studio. Her creations of beautiful, eco-friendly items for the home, are now being carried in close to 50 stores across the Northeast.
To learn more about Denise and her company,  you can visit www.theburntshop.com or email her at info@theburntshop.com.
Thoughts from Denise
I can make an item, maybe even take a little video while I'm making it, post it [on social media] and within minutes know whether it's a win or not. That feedback is so valuable.
If you decide you want to do something, simplify your home life and go all in. Don't wait until you're ready because you never going to be ready.
You don't have to settle for the grind.
Recommended Resources
The Nutmeg Collective – business support
Creative Live – online classes
https://www.creativelive.com/class/how-make-living-selling-what-you-make-megan-auman
Healthy habit: eat healthy, live a simple life.
BONUS PRO TIP: Before you consider renting additional space for your studio, first see if you can reclaim space by putting rarely used things in a local storage unit. Usually it's a cheaper option!
Quotable
"It's important for my sanity to live a very frugal and simple lifestyle."
"There's such a community out there [on social media]. If you're just helpful, appreciative and respectful to your other fellow makers….everyone gets lifted up."
"Even when things go wrong, I'm pretty good at sitting back and saying…'all right, what's this going to teach me.'"