Firing It Up with Becky Wright, Becky Pottery – Episode 008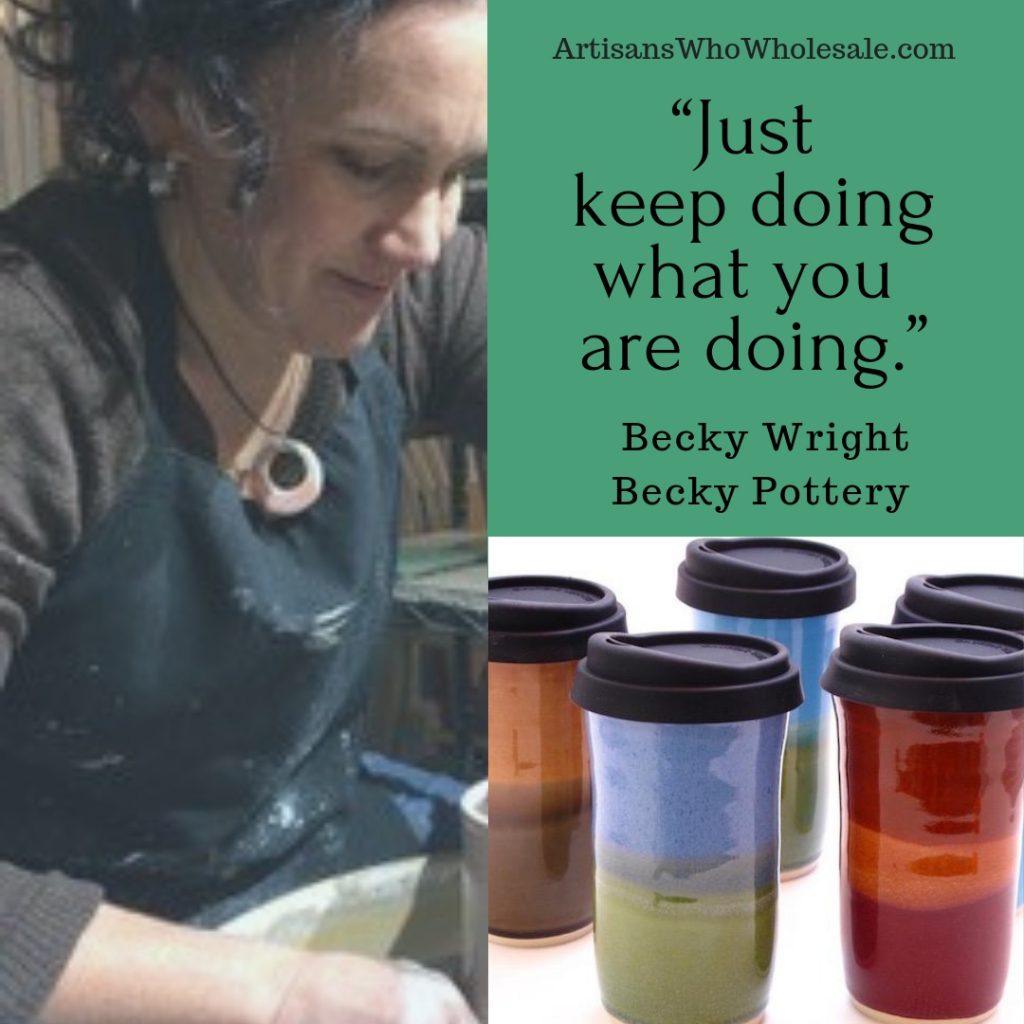 Becky Wright has been selling pottery since the mid-90s and always knew she could make pottery a career. However, in the early days fear was her constant companion. Afraid of money, fear of failure and a fear of success.
Becky almost gave up on wholesale.
Listen in to how she got over those challenges to create a life where she's proud to be able to do what she loves to do.
A little about Becky
Becky Wright is a potter living and working in Southern Maine. She works with stoneware clay on the wheel to create three collections: Tableware, Kitchen and Home Décor. She's greatly influenced by landscapes and skylines. These horizons and seascapes inspire her glazed works as she overlaps two colors to let the lines blur, creating intense color combinations with depth and alluring details.
She was an elementary art teacher for 19 years but always sold pottery as a side way to earn money alongside her teaching career. In 2016, she left teaching to be a full-time studio artist. She lives in the house she grew up in with her studio in her home and her husband and three teen children.
Listen in this episode as Becky shares her insights in what she's learned through her growth and challenges.
Thoughts from Becky
I've learned to get help for things I'm really terrible at doing or I just don't want to do.
I know what I know and I know what I don't know!
It's important to connect with other makers, visit and support each other.
Recommended Resources
Get Rich, Lucky Bitch by Denise Duffield-Thomas
Big Magic: Creative Living Beyond Fear by Elizabeth Gilbert
Healthy Habit: Yoga and a big salad every day!
Quotable
"Following your passion doesn't necessarily mean you'll be inspired every day."
"I've learned I can't do it alone."
"Just keep doing what you're doing."
"Keep creating.
Keep making even when something feels like its failing.
Don't stop. Ever.
Don't worry about what others are doing, or how successful they are, or how many followers they have on Instagram, or try not to be so competitive.
It doesn't mean they are happier than you.
Their story is not your story."
Learn More!
To learn more about Becky, you can visit www.beckypottery.com, follow Becky on Instagram at @Beckypottery, or email her at hello@beckypottery.com.