Do's and Don't From A Seasoned Buyer and Artist, Lisa Mossel Vietze, Archipelago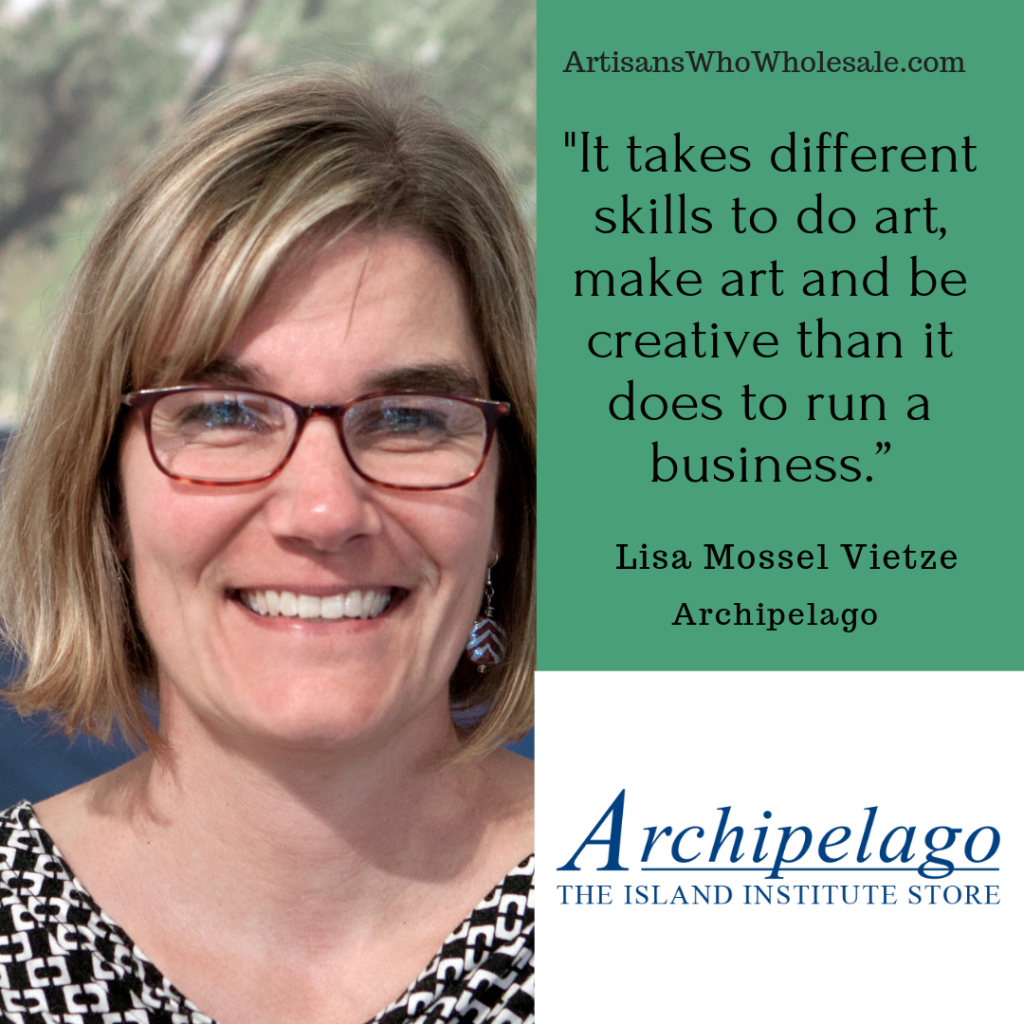 Episode 21 – Lisa Mossel Vietze, Archipelago
Do's and Don't From A Seasoned Buyer and Artist
What does a retail buyer look for? How do you handle exclusivity? How do you even get in the door?! Lisa not only has exceptional retail expertise, but also understands the mindset of an artist. She shares do's and don'ts of approaching retailers – valuable advice for anyone looking to connect with a specialty retailer.
Listen in now!
A little about Lisa Mossel Vietze
Lisa has been Director of Archipelago for 11 years. She combines her experiences of working in retail and non-profit environments as Archipelago is not only a retail space [store, gallery and online] but a program of the Island Institute as well. She's also a fine art photographer and have been making images for 30 years, with photography exhibits around New England and collected throughout the U.S.   Her website is www.LisaMosselVietze.com
To learn more about Lisa and Archipelago, you can visit www.thearchipelago.net
Thoughts from Lisa
It takes different skills to do art and make art and be creative than it does to run a business.
I love helping artists uncover their voice as well as guide people through the process of being an artist.
I think one of the most exciting things is seeing someone who is truly being themselves and sharing that vision with the world.
Make sure you let your buyer know what's new in your line.
Recommended Resources
CERF+ – the artist's safety net
Quotable
"One of the really important things for an artisan is to know if they want to be a business."
"Narrow your focus when you transition from doing craft fairs—focus on the best products that can reach your customers."
"Good retailers really want you to succeed and have a partnership in doing that."
"I hope that everyone who is running an arts business maintains a piece of themselves and their creative process for that real fun piece that keeps them engaged and inspired and doing what their vision is in the world."
"Trust your intuition, trust your own process and be your best self and engaged and see where that leads you."