From monkeys to Mad Gabs, a conversation with Gabrielle Melchionda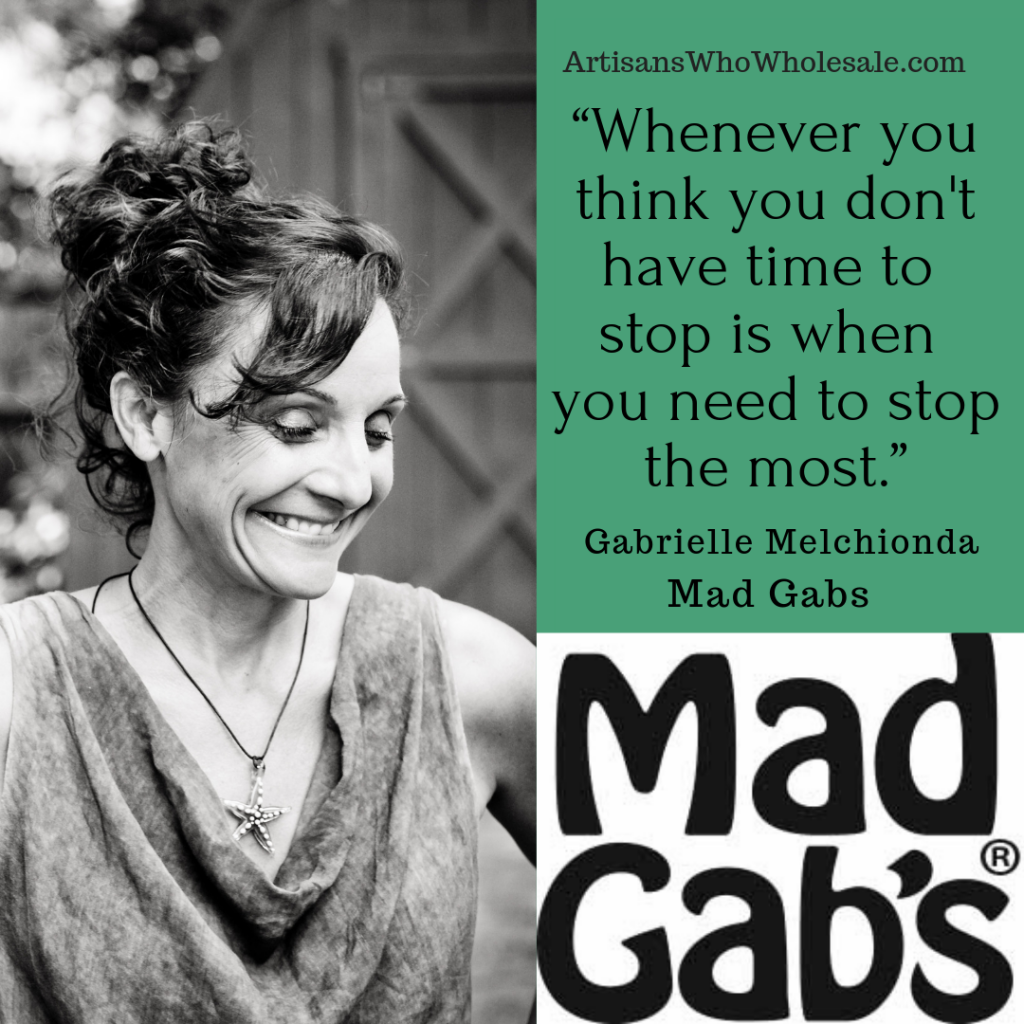 From monkeys to Mad Gabs, the kitchen to QVC—building a life with lip balm.
Episode 16
From monkeys (yes!) and a failed math class to selling to retailers like Wegmans and Whole Foods Market, Gabrielle has grown up with her Mad Gabs business. How did she do it? One lip balm at a time and more. From her start selling out of the back of her car, listen in to hear the valuable lessons she's learned along the way.
A little about Mad Gabs
Gabrielle Melchionda began making lip balm while studying anthropology at Umass Amherst in 1991 searching unsuccessfully for a lip balm that wasn't greasy or waxy but was made with natural ingredients.  She created her own formula using beeswax from her neighbor and gave to friends and family who couldn't get enough. They convinced her to start selling in stores locally and Mad Gab's was born. What began as a kitchen-based hobby became a small business and ultimately Gabrielle's life work.
Mad Gab's celebrated 28 years in business in 2018—and currently works with retailers around the US like LL Bean, Wegmans, Cracker Barrel, Whole Foods Market and countless amazing independent stores.  Mad Gab's products have appeared on QVC, and in a variety of magazines including Vogue, Elle, Seventeen and Business Week.
When not playing Maestra of Mad Gab's, Gabrielle enjoys life with her two sons, Silas and Jasper, traveling, writing, cooking and working with startup companies and budding entrepreneurs.
To learn more about Gabrielle and her company,  you can visit www.madgabs.com or email her at gab@madgabs.com.
You can also learn more about how she's working to empower girls at her GabsGirls program.
Thoughts from Gabrielle
If we can take something and give it different identities and put those products into different markets. How beautiful is that?
Pro tip: pick an airline, pick a hotel and pick a car for your brands and stick with them. The loyalty pays off. Even if you're not traveling a ton. It does make a difference.
We should all seek counsel on a regular basis.
Gabrielle's Consulting
Gabrielle is currently providing consulting support. "I'm a great fit for small business owners and startups who want counsel on the following:  strategizing, sales, marketing, packaging, copy-writing-editing, trade shows selection and booth design, art direction, sales reps, goal setting, work-life balance support, and general coaching. What I do tends to blur the lines between a sounding board, a coach, and a bit of emotional support. I'm all about free resources, too and often work in conjunction with folks also in touch with SCORE, SBDC, CEI, etc." Email her for more info!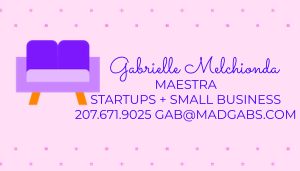 Recommended Resources
SCORE – free volunteer mentors
SBDC – free business support
New Ventures – business support
Startup Maine, Portland, Maine 3 day conference
Greenlight Maine – business competition show
Quotable
"One of the most powerful things in small business is the pause. Whenever you don't think you have time to stop is when you need to stop the most."
"Your body doesn't just belong to you. It belongs to those who love you."
"We become part of people's lives. And the relationships that we have with our retailers, our reps, our consumers, our employees or former employees… and without them, we aren't anything in our lives or as a business.