Building a Business In Knots with Matt Beaudoin, Mystic Knotwork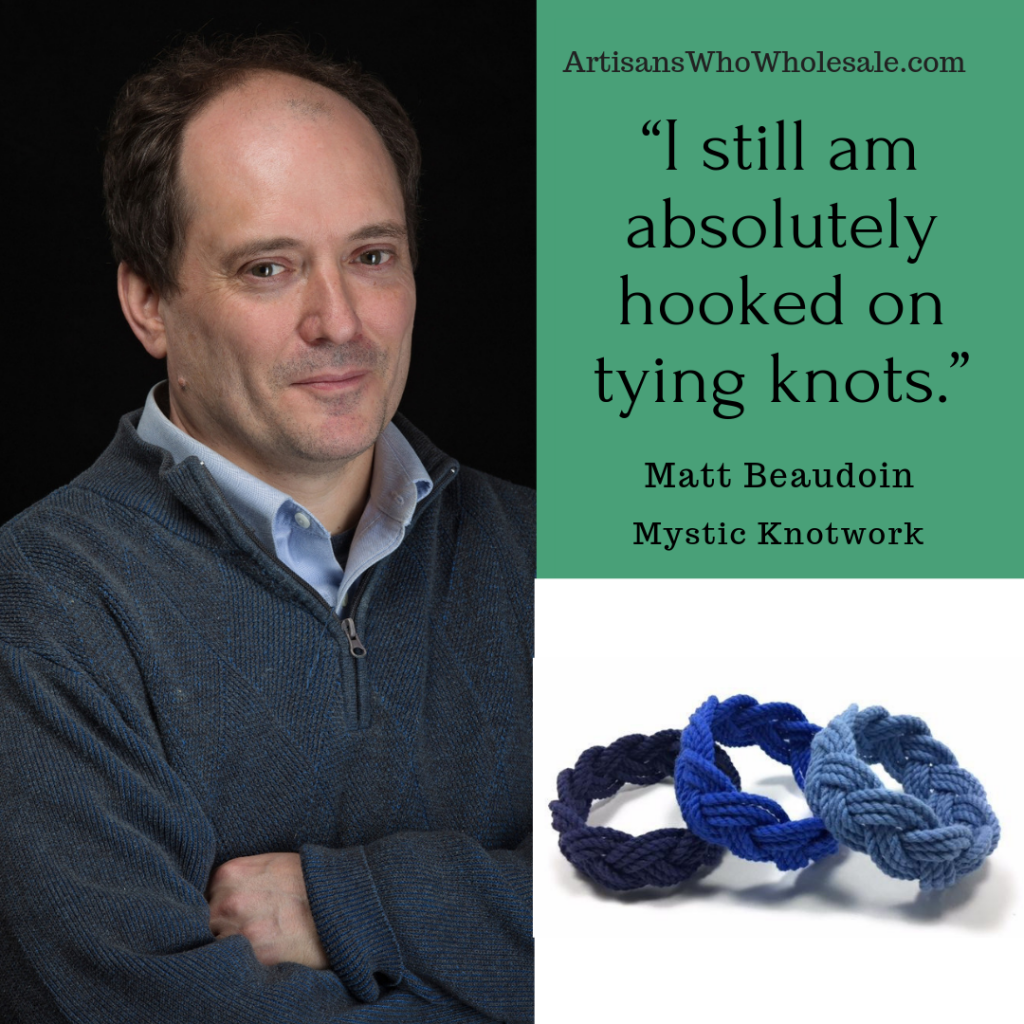 Episode 020
Why do Martha Stewart, American Craft Week, and Yankee Magazine all find Matt Beaudoin's work irresistible? Does his success come from the love of the work or the fear of failure? Listen in to hear how Matt has taken his grandfather's lessons to build an anchor business for his community.
A little about Matt and Mystic Knotwork
Matt started nautical knottying from his earliest memory.  His grandfather Alton Beaudoin encouraged him to learn fancy knotwork since he was 7 years old. He's been active in the knot tying hobby for 41 years and left his IT job in 2009 to pursue this full time.  Mystic Knotwork now serves over 400 shops around the country and has two workshops open to the public in Downtown Mystic, CT.
"My grandfather won the first Mystic Outdoor Art Festival in 1957, which is what we use to mark the start of our business.  Our first 'modern' award was the 2014 Heritage artisan award at Martha Stewart American Made.  2015, American Craft Week named us their Artisan Extraodinaire.  2016, we were named SCORE's Small Business Champion, 2017, Business Insider named our work the #1 Souvenir for Connecticut, 2018, we won the Governor's Award for CT Tourism as well as the Small Business of the Year by the Eastern Connecticut Chamber of Commerce.  This year, Yankee Magazine recognized us as their Editor's Choice for Connecticut Made work."
To learn more about Matt and his company, visit MysticKnotwork.com.
Thoughts from Matt
Price your wholesale first, then mark up to your retail. That way if somebody buys wholesale, you'll feel the celebration when somebody buys retail.
We are challenged by politicians that don't understand artisan or manufacturing businesses built on trades skills and not automation.
I'm most proud to be an ambassador for the state of Connecticut.
Recommended Resources
Asana – project workflow
E-Myth by Michael Gerber
Quotable
"Be ready for a ride and be ready to be a student of the game."
"Hire people you can trust and help foster that trust in people.
"It takes time to get traction and go."
"Don't let opportunities slip by, but don't also expect returns you can see."