The Art of Wholesale Craft with Sadie Bliss, Maine Crafts Association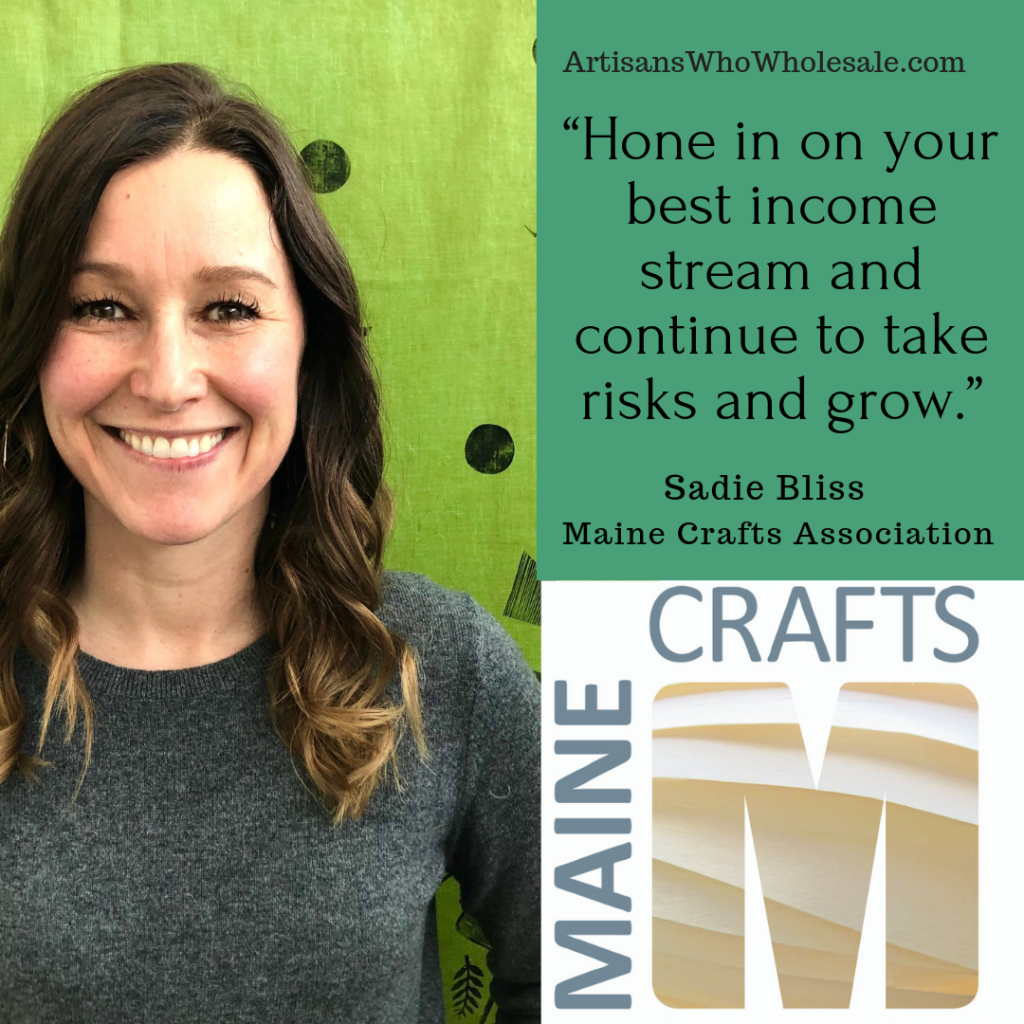 From Craft to Artists and More – A Conversation with the Maine Crafts Association
Episode 018 
The Maine Crafts Association works to support craft artists with marketing and educational opportunities. While craft doesn't always successfully crossover into wholesale, Sadie Bliss, Director, knows the best practices of the most successful craft artists and shares them with us in this episode!
A little about Sadie
Sadie grew up in New Hampshire where her mother was a professional craft artist making a living from her ceramic work. While in graduate school receiving a degree in Arts Administration Sadie worked for the Society of Arts and Crafts, managing Craft Boston. She moved to Maine in 2008 and began working for the Maine Crafts Association at the Center for Maine Craft and in 2012 moved into the director role. The Maine Crafts Association offers educational, marketing and retail opportunities to members, including professional development focused on wholesale.
To learn more about Sadie and the Maine Crafts Association,  you can visit https://mainecrafts.org/ or email her at sadie@mainecrafts.org.
Thoughts from Sadie
I think what people really need is to have some income from craft shows, some income from open studios, some income from wholesale, some income from maybe a consignment arrangement so that as each one of those different sources ebbs and flows, the other ones can carry you.
The mistake is when people make decisions a little bit too quickly about what's working and not working and limit their income.
If you start imagining things and how you would want them to be and how growth could look, sometimes things will start falling in place.
Recommended Resources
Perennial Seller: The Art of Making and Marketing Work that Lasts
Quotable
"I love it when people quit their jobs and then move over and just do this craft business they've been building. It's a really wonderful and scary and a brave step."
"The most successful craft artists have honed in on their best income streams and they also continue to take risks and to grow."
"Successful artists are finding the balance of sticking to their vision and their style and spending their time making the things that they want to make while making small adjustments that meet the demands of the market."