"Just Believe In Yourself," Suzanne Foley, Port City Pretzels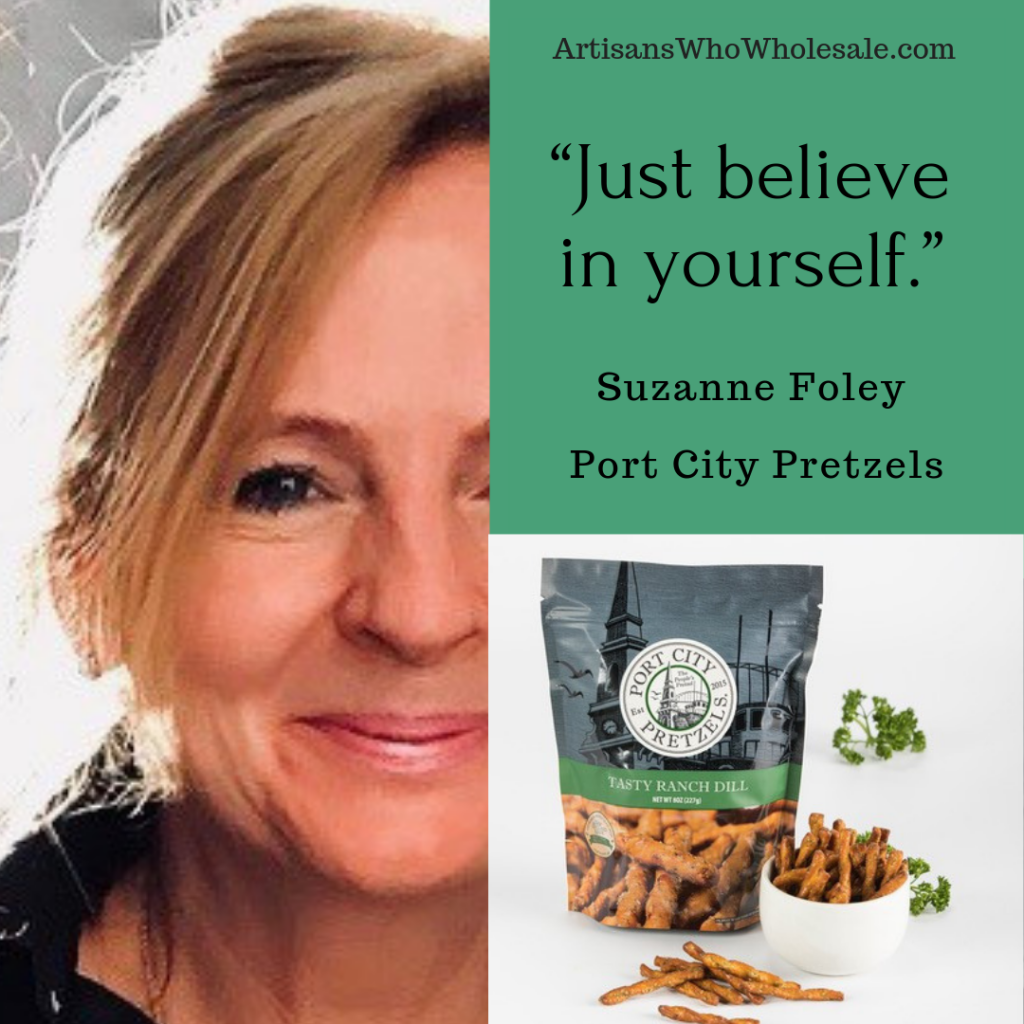 It took 30 years for Suzanne's idea to come to fruition, but today Port City Pretzels are enjoyed across the country…and boy, are we glad she's brought her vision to the marketplace.
While some her age would be slowing down, Suzanne is running full speed in growing a business. Her perseverance through hardship and a continued focus on moving forward no matter what the challenge holds plenty of lessons for all of us.
Listen in and learn her best advice and how she uses the expertise of organizations like SCORE, Women's Business centers and SBA/SBDCs to help her navigate growth in the specialty food market.
A little about Port City Pretzels
Suzanne Foley had the idea of bringing a food product to market over 30 years ago, but instead held management positions for most of her career. In 2015, at 57 thinking retirement was on the distant horizon she suddenly found herself unemployed. At the same time, she suffered overwhelming personal heartache. However, she never stopped believing in herself. With a solid resume and a hard work ethic, in the fall of 2015 she launched Port City Pretzels.
Her passion for independence and creativity was the driving force behind her decision to introduce a specialty food product into stores. She has seen significant growth and finds herself now with a national presence and a prediction for greater future success. Her business concept has been recognized by the Small Business Development Administration for entrepreneurial activities and she is a 100% Women Owned Business. With a great deal of enthusiasm, she captures the essence of a true entrepreneur.
To learn more about Suzanne and her company, visit https://portcitypretzels.com/.
Thoughts from Suzanne
When I started, my family thought I was nuts!
I'm proud that I'm providing gainful employment. I have a number of workers with disabilities which just evolved, and I love that…it comes from my heart proud.
Age is not a barrier
The challenge is maintaining the sweet spot of growth—not growing too fast or too slow.
Ask for help, you can't do it all
Recommended Resource
Quotable
"I have more energy when I can step away and come back."
"It's easy for us to put the love and the passion into our product, service or craft…but you've got to know your cost of goods. You've got to know your margins and understand your financials."
"Believe in yourself!"